Marine Based Drilling Experience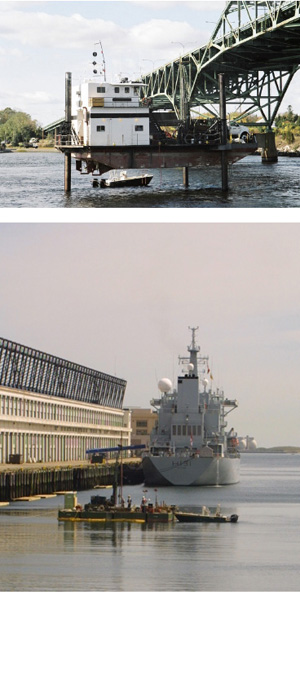 Geologic has been drilling in various marine environments since its founding in 1987. While marine drilling requires more forethought and preparation than a typical land-based program, we value the op-portunity to work on these technically challenging programs. At the same time, we realize the increased risk while working on the water and enjoy a 25 year safety record of zero injuries, accidents or lost or damaged equipment on marine projects.
This is not because we shy from a challenge. We routinely build custom structures for unique drilling requirements. From swiftwater platforms to work in the fast current of dam controlled rivers, to portable barges for work in level B respiratory environments, we enjoy working with our clients on technically challenging programs.
We firmly believe in building strong relationships with the best marine partners in the industry. Whether it is for leasing specialized platforms, or having tugs on hand for safe, fast transport to a location or back to port, we believe that safety on the water is a matter of combining the right planning, equipment and experience.
During a recent project, three of our crew were cited for heroism after the rescue of a local fisherman during a late night gale. Certainly they were acting beyond the call of duty, but they also had the right combination of skill and well built equipment to make the rescue possible. That is no accident. About the rescue -->
Sample Marine Based Drilling Projects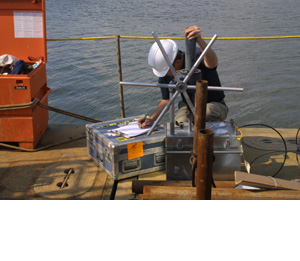 HDD Force Main Test Boring Program
Location: I-95 Harbor Crossing, New Haven, CT
Owner: Connecticut DOT
Engineer: Geo Design
Project Value: $220,000

Geotechnical drilling from anchored barge in New Haven Harbor. Performed 8 borings between 90 - 125' below mudline in New Haven Harbor. Performed pressure meter testing in bedrock borings in the river from Geo's Floating barge. Drilled land borings and performed test pits on land.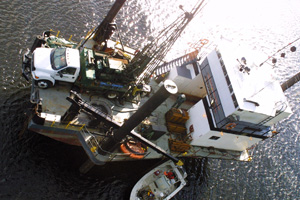 Sakonnet River Subsurface
Exploration Program
Location: Sakonnet River, Tiverton/Portsmouth, RI
Owner: Rhode Island Department of Transportation
Engineer: Haley & Aldrich
Project Value: $1,904,275

Geotechnical exploration drilling in unusually deep sediments in an area of extreme current. One of the most extensive Marine Geotechnical Drilling Projects performed in Rhode Island history. Program required drilling from land, a specialized barge, and custom modular concrete platforms with temporary personnel shelters, placed in the intertidal zone in areas of rough water and strong variable current. Geologic utilized a self propelled lift barge which would navigate to the location and lift itself out of the water to above the high tide line to allow work during otherwise difficult current and weather. Drilling on the barge was run in two 10 hour shifts to maximize utilization of the lift barge. Work was performed in areas of water depth exceeding 60 feet using telescoped cased borings to a bedrock depth of 370 feet beneath the mudline. Weighted drilling muds, varying in density and viscosity were employed to aid in handling hydraulic conditions during drilling and sampling. The lift barge setup was employed to work through gale force conditions in safety and security. The program was finished ahead of schedule and on budget. Three of the crew members were awarded Certificates of Heroism by the Town of Tiverton, Rhode Island for the late night rescue of a local fisherman during a gale.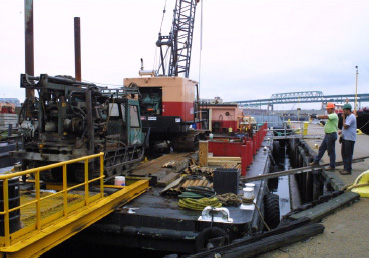 The Boston Harbor Cad Cell Design Study
Location: Boston Harbor, Boston, MA
Owner: US Army Corp of Engineers
Engineer: GEI Consultants, Inc.
Project Value: $126,850

This subsurface program included conducting soil and bedrock borings in the Federal Navigation Channel at the confluence of the Chelsea & Mystic Rivers, Boston Harbor. Work performed using a CME 55 Drill Mounted on a 110' X 40' spud barge tended by a 50 foot diesel tug and a 25 ft work boat. Proximity to LNG operations required close coordination among USACOE, USCG, Mass State Police Marine Group, Massport Port Operations Group and Boston Harbormaster during LNG tanker movement. Geologic used robust and redundant equipment to meet strict scheduling parameters. An accelerated schedule with extended work hours was employed to meet milestones between LNG deliveries. Geologic performed this project concurrent with the mobilization phase of a $2M marine drilling project in Narragansett Bay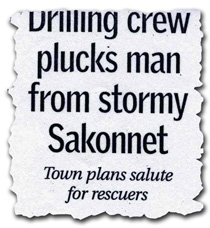 ---
"The Field Team was impressed with your crew. They clearly knew what they were doing, they were quick and helpful to our Geologists."
- JR, Westford, MA