Environmental Drilling

GeoLogic has been involved in environmental drilling since the early days of many federal Superfund projects and through the genesis of the MGL CH. 21E program in Massachusetts and its analogues in the surrounding New England states.
Having made an early investment in the equipment and training to safely work on environmental sites at various levels, Geo was instrumental in pushing the developmental envelope in technical drilling areas including some of the early isolated zone groundwater sampling in soil and bedrock.
As coal gasification waste investigations reached the forefront, Geo was at the leading edge of isolating contaminant zones through the use of multiple sealed telescoped casings. Although time intensive, Geo had considerable success using fastidious decontamination techniques between isolated overburden zones, to demonstrate that, in many cases, gasification waste had indeed not penetrated some of the very low permeability till layers in New England to contaminate more mobile underlying bedrock aquifers. This had a considerable impact on site remediation plans as well as budgets at a number of coal gas waste sites.
Geo continues to offer both cost competitive and highly sophisticated environmental drilling techniques in an effort to meet the evolving needs of environmental scientists throughout the Northeastern United States.
Learn More About Geologic's Other Services>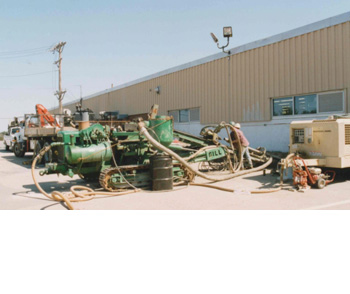 Angle ODEX Drilling for Monitoring Well Installation Beneath Building
GeoLogic drilled numerous low angle wells to reach a contaminant plume located beneath a building. The building was an active manufacturing facility that could not be shut down for conventional well installation. ODEX air rotary tools were used to provide penetration of difficult soils without the aid of gravity allowed more conventional drilling programs.
"I just wanted to send you a quick note to thank you and everyone at Geologic for all their hard work at the project site over the past five weekends. We all knew it was going to be a tough job and it definitely fought us the entire way, but in the end, we got the work done and the client and our organization couldn't be more pleased. I especially would like to let you know how appreciative everyone of my colleagues involved with this project was with the work. Throughout the project Your crew was willing to do whatever it took to get the job done and that couldn't have been exemplified much more than the efforts they put in during the last shift. Thanks again for your help with this project and I look forward to working with you in the future."
-SR, Norwood, MA