Geologic brings the highest level of drilling experience and equipment to your site, we offer a level of sophistication and expertise that allows us to anticipate many problems before they become significant, and to solve others quickly in the field. When time is money, we work to stack the deck in favor of our clients.

Geologic has some of the most experienced drilliers in all of the Northeastern United States. Many of our senior drill crew are second generation drillers, and their talent and ability to understand what is happening in the hole has been learned from the masters. Learn more about Geologic and the difference we bring to every project.

As soon as the gear broke contact with the runway, the bird went into the steepest climb possible without stall. Peering out the starboard side of the craft, we could see what looked like small fireworks. The stranger in the seat beside us grumbled simply "insurgents". This particular takeoff was performed to avoid small arms fire from the countryside below. Welcome to Iraq, Spring of 2011, on a geotechnical drilling assignment with GeoLogic.

Drilled multiple angle borings from a floating sectional barge, Dorchester, Ma. Holes were drilled at varying angles adjacent to active track without any delay or shutdown of train traffic. Barge sections lag bolted to pier wall for stability during coring. Barge ballast was controlled by pumping river water in and out of sections to allow passage below low clearance bridges.
GeoLogic Holds Level A Rating
with ISNetworld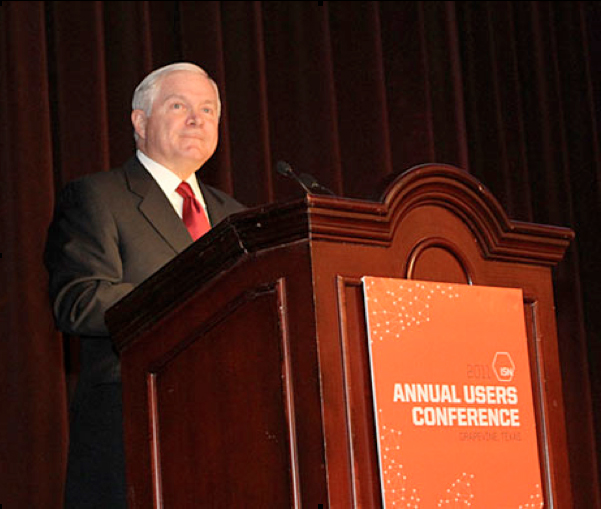 GeoLogic is pleased to announce the receipt of an A Rating on the industry supplier management system ISNetworld.
ISNetworld is the global resource for connecting corporations with safe, reliable contractors in capital-intensive industries. Several of Geo's, clients use this system and have rated GeoLogic at an A level, the highest level awarded, at the time, also the highest level of safety held by a drilling contractor in the Northeastern United States.
GeoLogic has input their Safety, Environment, Quality and Personnel data into ISNetworld. This vital safety and quality data is reviewed and utilized by our clients in determining the highest quality contractors and also for managing supplier safety and quality data.

Image Usage - Fmr. US Sec. Of Defense Robert Gates at ISNetworld Conference - ISN Meetings & Events Annual Users Conference - © Copyright 2011 ISNetworld
Services
Connect with GEO
GEO is here to serve our customers throughout New England. For detailed estimates please complete our online request form.
7 Sherwood Drive
Norfolk, MA 02056
Tel. (508) 384-4434
Fax (508) 384-4452
info@geologicinc.com